For long lasting retention and best results using our products, below is our recommended application procedures.
But before we start, please note these important points:
Always follow the adhesive's ideal operating recommendations, i.e. temperature and humidity level of the room. Temperature is more important than humidity when it comes to the glue's performance and speed
Most glues do not cure properly with cold temperature and will give poor retention. We recommend a minimum of 21C/70F (ideal 22-24C/72-76F for most glues)
The best bond is achieved when not too much glue is used. The thinnest coating of glue is ideal.
If using a fast glue, within the first second of dipping the false lash into the glue to sticking it to the natural lash is absolutely critical. If you missed the initial placement, start again with a fresh false lash. Or use a slower adhesive until you've "leveled up" 😉
Recommended Eyelash Extension Application Procedures for Long Retention:
Shampoo client's lashes (10% oil-free baby shampoo, 90% distilled water)
Rinse well (2-3 times) with saline or water
Pat dry using make up sponge
Apply protein remover as per usage instructions
Fan-dry while brushing the natural lashes for a couple of minutes per eye. Make sure the lashes are thoroughly dried.
Take photos (from where you're sitting, looking down)
Lash away! Dispense lash and glue per your favourite method. Change glue drop when it starts to go gooey.
Once finished – fan-dry the lashes for a couple of minutes.
Then nano mist as per usage instructions for 30 seconds per eye (45-60 sec per eye if humidity is below 45%), from about 20-30cm away, moving back and forth between the eyes.
Fan-dry again for another couple of minutes.
Brush. DONE!
Take photos!
Make sure the client follows your aftercare instructions! BL Cleansing Water is a good product to retail to clients for everyday cleansing.
…Wait 2-4 weeks for refills…
Take pictures (same angle as #6) before doing refills so you can easily make comparison.
*** The first 5 steps are extremely important to producing the best adhesion and retention possible. And only takes around 5 minutes. ***
Must read: Temperature is more important than humidity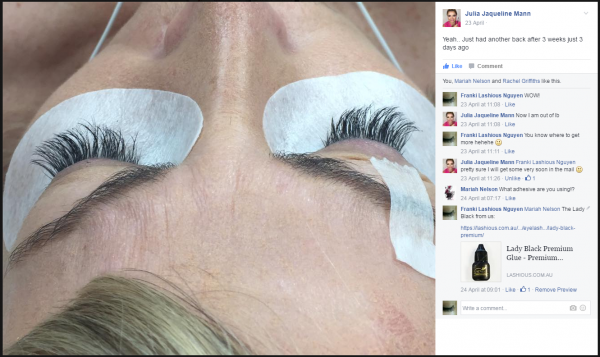 My favourite lash and glue dispenser? A coffee mug of course!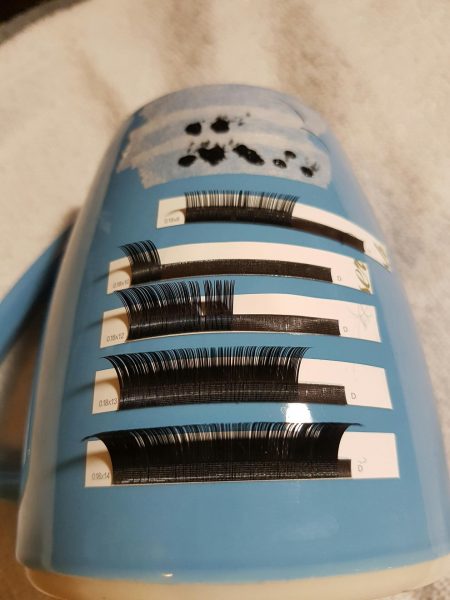 BUYER BEWARE: Daejin (maker of Sky/Lady Black) do not sell their products direct to the public. Beware of any websites that use the Sky Glue logo or domain name as if it is the official site – they are NOT affiliated with nor are owned by Daejin/Sky!
* Header photo credit: Lash Studio (Sydney)