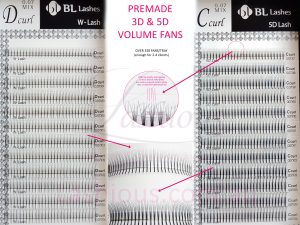 A lot of opinions and misconceptions have been put forth about using premade volume fans. Some lashers are even getting harassed/bullied by other lashers (who only work with their own handmade fans) because these handmade lashers think that it's cheating to use premades. Let me make this clear – it's not cheating and as long as you charge accordingly and your customers are happy with the results, who's to judge! Moreover, not everyone can afford handmade/Russian volume nor able or willing to lie down for 2-3 hours at a time.
I would absolutely recommend having premade volume on your menu and not because I'm biased either. Price-wise, premade sits nicely between handmade (Russian volume) and Classics, and you may even earn a higher hourly rate with premade fans!
For example: a tray of our 3D premade contains 360 fans, enough for 2-4 clients (depending on coverage) and costs AUD$21.95. For this example, say one tray for 3 clients (120 fans per client, 60 fans per eye = 180 lashes each eye total). 3D Lash cost is $7.32/client. Glue and other materials cost the same as classics and Russian:
Let's assume the following:
Classic: you charge $100 and takes you 1 hour
Russian volume: $200 and takes 2hr
Premade: $150, and it should take about the same time as a classic set once you're used to working with them.
Your hourly works out to be:
Classics: $100/hr
Russian: $100/hr
Premade: $150/hr (minus $7.32 in lashes) = $142.68/hr
It's a business decision that I've advised lashers about since the day we introduced premade fan (back in early 2016)!
Go ahead, add premade volume to your lash menu and give your client an added option 🙂