Sale!
Silk+ Laser Lash
AUD$15.00 – AUD$21.95
CLEARANCE SALE – we're clearing out all B curls, and all 0.10 and 0.18mm lashes. Only AUD$15/tray!
Laser Lash – Silk+
A brand new innovative range of lashes that will hold up to 1.5x longer and significantly reduce "twisting/turning". From world-renown and innovators of many awesome eyelash extension products – Blink Lash.
Why Laser Lashes Are so Much Better Than Standard Lashes?
Ask anyone that ever have to glue one thing to another (dentists, tilers, etc), and they'll tell you that if one of the surfaces is "roughed up", you will get a far superior bond – stronger and longer lasting adhesion. Moreover, eyelash extension adhesives are not resistant to friction if applied to smooth surfaces, ie they do not bond as well between two smooth surfaces such as that of the natural lash and the PBT fibre. The Laser Lash range solved this problem

 by having the base of each lash etched with a laser to create indentations so that there is more surface for the glue to adhere to.

The laser etched indentations/grooves make the base of the laser lashes much softer and flexible than any other lashes – therefore, they can be positioned without any gap (between the natural lash and the laser lash).
Turning/twisting is also significantly reduced.
The grooves prevent adhesive from "clumping", lash technicians/stylists can choose any favourite glue regardless of their viscosity rating (runny or thick)!
New labelling on the top spine of the tray means you no longer have to make your own label! At a quick glance, you can determine the tray's curl, thickness and length.
Perfect for Classic (1:1) applications.
Made from premium PBT fibre, these lashes are natural looking, ultra light, and retain their curls for much longer.
Differences Between Faux Mink and Silk Laser Lash
Silk is more tapered, which makes it softer and lighter than the faux mink laser lash. Silk has got a luscious matte sheen.
Mink is a bit more reflective/glossy. The mink looks fuller because it's less tapered.
Silk cost AU$1.50 more per tray because of the more complicated manufacturing process.
Silk thickness: 0.10, 0.15, 0.18. Mixed-length
Mink thickness: 0.06, 0.10, 0.15, 0.18. Mixed-length
Please refer to the product picture for a visual comparison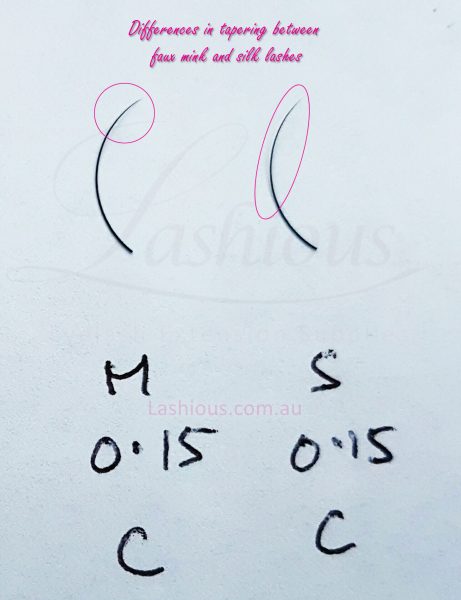 Blink Lash Stylist & Care is one of the best names in lash extension and is highly regarded by top lash stylists all over the world due to their high quality and premium range of products. They have their own research and state of the art manufacturing facilities. Most other brands are just rebranded from "white-labelled" (OEM) products.
Genuine premium Blink Laser Lash delivered to your door.
Features:
1.5 times longer retention
Significant reduction in twisting/turning
Premium quality PBT fiber
Soft silky, velvety and luscious
Ideal for Classic (1:1) applications
Tray of 12 strips
Natural looking lashes
Light-weight
Even & long lasting curl
Soft luscious matte sheen
Genuine Blink Lash Stylist & Care product
Click here for Mink Laser Lash
Notes: if the sizes are sold out, you can still order them as a "back-order". Back-orders will take 2-3 weeks to fill.
---
Buy "Silk+ Laser Lash":
Additional information
| | |
| --- | --- |
| Curl | B, C, D |
| Thickness (mm) | 0.10, 0.15, 0.18 |
| Length (mm) | Mix Lengths, 09, 10, 11, 12, 13 |