Lashia Eyelash Design Gold Coast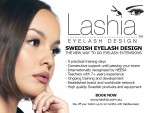 Description
10 years experience in Eyelash Extension and training.
Lashia is originally a Swedish company, now established in Australia.
Offering 1st class training, products and services.
We have the longest, most thorough training program in the country.
Come have your lashes done by one of our Master trainers or do a 2 hour introduction course to find out more on our training packages.
Read more on our website: www.lashia.com.au